Winter

Winter Trails Information
Winter Trail Conditions
Date: 01.18.21 Snow Depth: 10-14"
Skiing/Snowshoeing: Yes Hiking: No
Groomed Trails: 0
Trail Condition: Ungroomed
Open Trails
Hayfield Loop, Woodfern Loop, Dogtooth, Northstar, Dark Entry, Little Dipper, Sugar House, Sap Run, Beaver Ponds, High Meadow, Lower Window Rock to Notch Trail to High Meadow, Sunset Ridge.

Closed Trails:
East Meadow, Birch Meadow, West Meadow and West Side Trails


There is no charge to use the HNA trails. Donations are welcome. Winter access to HNA trails is limited to the Welcome Center parking area and the Bear Paw Pond area parking. The High Ponds Farm access is closed to parking during snow storms. In Winter dogs are prohibited from all areas within the trail network.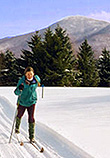 Cross country skiing and snowshoeing at the Hazen's Notch Association in northern Vermont is all about plentiful snow, spectacular scenery, uncrowded trails and friendly people. The cross country ski touring center at Hazen's Notch is blessed with a topography that is ideally suited to nordic skiing - rolling meadows, soft hills, and views of mountains in all directions.
20 Miles of groomed and marked trails pass through 1,500 acres of mixed maple, birch and evergreen forest and across gentle, open meadows. There are spectacular views of Hazen's Notch and numerous peaks over 3,000' in elevation in the Jay Range and Cold Hollow Range of the Green Mountains which completely encircle the trail system. The Hazen's Notch Association trails are considered to be some of the most scenic trails in all of Vermont.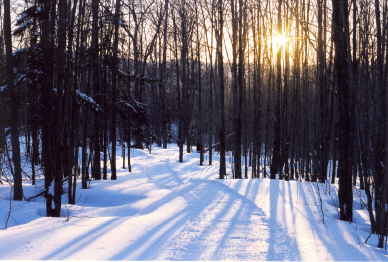 25 trails for all abilities provide loops of different lengths for classical cross-country skiing and/or snowshoeing. Trail difficulty is evenly divided between easy, moderate and difficult. Numerous ski trails are groomed and trackset for classical nordic skiing. Our carefully designed trails provide maximum enjoyment for trail users with minimal impact to the surrounding natural resources. We design and manage our x-c ski trails to be in harmony with the landscape. Visitors often comment about the varied forest types, numerous animal tracks and careful land stewardship practices that they observe when skiing the Hazen's Notch Trails.

Glide across gentle hayfields on the Hayfield and the Birch Meadow Trails with scenic views of the Jay Range. Moose and bobcat frequent the trails. On sunny days in March you can pause for a trailside lunch at picnic tables along the trail - at Bear Paw Pond, Moosewood Ponds and the High Meadow with its incredible panorama of the Jay Mountains: Little Jay, Big Jay, Jay Peak, North Jay, Gilpin Mountain, Domey's Dome & Buchanan Mountain.
Snowshoeing Trails offer an ungroomed, pristine winter experience. 10 miles of specially designated trails provide a variety of beautiful routes for people who wish to see nature up close on snowshoes. The Bear Paw Pond Area is just across the road and uphill from the Welcome Center. There are panoramic views from Coyote Meadow and the old sugar house. The summit of Sugar Hill (elevation 1,700') makes a good destination for people who want a pleaseant 2-mile roundtrip hike from the Welcome Center. The views of the Trout River valley with the villages of Montgomery and Montgomery Center can be enjoyed from the natural open bald summit.
---
More Information on hazensnotch.org
Today was another spectacular day at Hazen's Notch. The sun coming through the trees creating an enchantment in the forest. It's cold - but with the exertion of the skiing it's refreshingly so. Over the years we've seen many things - rabbits, hawks, deer, foxes, squirrels, ruffed grouse. It's one of the reasons I ski alone - I love the quiet. My favorite trail - Dark Entry, over to the Beaver Ponds and then up to the High Meadow gives me a spiritual feeling of being at peace with the world. Your trails are special. They are cut in a way which respects nature, respects the environment and creates a special place for us all to enjoy. Thank you.
Bob Bonnell