Hazen's Notch Association
Children's Summer Nature & Adventure Day & Resident Camp
Mission
Our Mission and Philosophy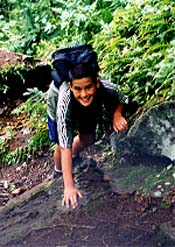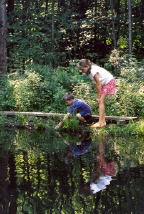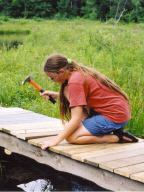 Mission of the Hazen's Notch Association

The Hazenís Notch Association (HNA) is a non-profit member-supported, conservation organization located in Montgomery, Vermont. The HNA was founded in 1994 to promote and engage in conservation of agricultural and forest lands, environmental education, outdoor recreation, scientific research, and stewardship of natural resources.
The mission of the Hazen's Notch Association is to "bring people together to conserve Vermontís natural resources". To achieve this goal, we focus on education. Our programs are designed to develop an understanding of issues relating to our roles as stewards of our natural resources and to act in a positive manner to protect those resources for future generations.


Philosophy of the Hazen's Notch Association Summer Camp

The philosophy of the Hazen's Notch Summer Camp is to nurture each child as part of an inclusive and supportive group. The HNA Summer Camp has gained a reputation for excellence in developing an awareness and respect for the environment, outdoor skills, self-confidence, cooperation and leadership.
Experienced outdoor educators guide campers through a creative program of learning that matches the children's own curiosity and wonder of the natural world with special places and themes that fit each age group's different perspective - their "scale of comprehension."
We get to know each child as an individual and encourage all campers to respect each other's uniqueness. Campers make new friends in an atmosphere of good will, sharing and common outdoor interests.




Summer Camp Home

Mission Actvities Food & Equipment
Campership Fund Appreciation
Schedule Enrollment Form

Membership Form