The HNA logo
was designed by
Peter Vercelli - Architect
Home
About HNA
Calendar of Events
Conservation Projects
Education Programs
Hiking Trails
Links
Membership Form
Natural History
Photo Gallery
Research Projects
Summer Camp
Support
Trail Conditions
Trail Map
Visitor Information
Winter Recreation


One snowy day this past winter, I drove over the mountain with friends who are members of the Hazen's Notch Association.
We all headed up to the High Meadow. Skiing on the groomed trails there, I was struck by the beauty of the forest and the views of other nearby mountain peaks from our perch atop the notch. Back at the cozy, wood-heated lodge, we sipped tea and relaxed.
I'll be sure to recommend the xc skiing at Hazen's Notch to my guests at
Little Gnesta
Bed & Breakfast. Thanks,

Ruth Sproull
Little Gnesta LLC
A Swedish-Inspired
B & B



---
Today was another spectacular day at Hazen's Notch.

The sun coming through the trees creating an enchantment in the forest.

It's cold - but with the exertion of the skiing it's refreshingly so.

Over the years we've seen many things - rabbits, hawks, deer, foxes, squirrels, ruffed grouse.

It's one of the reasons I ski alone - I love the quiet.

My favorite trail - Dark Entry, over to the Beaver Ponds and then up to the High Meadow gives me a spiritual feeling of being at peace with the world.

Your trails are special. They are cut in a way which respects nature, respects the environment and creates a special place for us all to enjoy.

Thank you.

Sincerely,

The Bonnell Family



---
Anyone who enjoys skiing, snowshoeing & hiking the backcountry in the Hazen's Notch/Jay Peak area should support the Hazen's Notch Association.

Through your financial contributions and volunteer work the HNA can continue to provide access to backcountry trails in our area.

By joining and supporting the Hazen's Notch Association you can help strengthen the network of cooperating landowners that make the trails possible.

Thank you.

The Board of Directors
of the
Hazen's Notch Association

---
With Appreciation:

for Val Schadinger who founded and maintained the Hazen's Notch trails from 1978 through 1999;

for Ted Means & May Drown for developing the Notchmont Trails beneath Burnt Mountain and Haystack Mountain and for their encouragement;

for our cooperating landowners for their generosity and stewardship of the natural resources of the Hazen's Notch area.

for the many volunteers who have helped to clear brush and fallen trees, build bridges and pack trails for all to enjoy.

and especially for
Jake & Sue Martin
of East Bakersfield, Vt.

Thank you.




---
Hazen's Notch Association
Bringing People Together to Conserve Vermont's Natural Resources

Cross Country Skiing in the Jay Peak Resort Area of Northern Vermont

Winter Recreation
X-C Ski & Snowshoe at Hazenís Notch, Vermont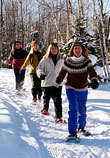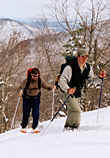 Cross country skiing and snowshoeing at the Hazen's Notch Association in northern Vermont is all about plentiful snow, spectacular scenery, uncrowded trails and friendly people. The cross country ski touring center at Hazen's Notch is blessed with a topography that is ideally suited to nordic skiing - rolling meadows, soft hills, and views of mountains in all directions.

Located at the top of Vermont in the "Covered Bridge Town" of Montgomery near the Jay Peak Ski Resort, Hazenís Notch is on the western edge of the beautiful, uncrowded and snowy Northeast Kingdom. The Hazen's Notch / Jay Peak area is known for receiving more snow than any other part of Vermont.

40 Miles of groomed and marked trails pass through 2,500 acres of mixed maple, birch and evergreen forest and across gentle, open meadows. There are spectacular views of Hazenís Notch and numerous peaks over 3,000í in elevation in the Jay Range and Cold Hollow Range of the Green Mountains which completely encircle the trail system. The Hazen's Notch Association trails are considered to be some of the most scenic trails in all of Vermont. Link to Snow Report

As a conservation land trust and environmental education center we design and manage our x-c ski trails to be in harmony with the landscape. Visitors often comment about the varied forest types, numerous animal tracks and careful land stewardship practices that they observe when skiing the Hazen's Notch Trails.
25 trails for all abilities provide loops of different lengths for classical cross-country skiing and/or snowshoeing. Trail difficulty is evenly divided between easy, moderate and difficult. All ski trails are groomed and trackset for classical nordic skiing. Our carefully designed trails provide maximum enjoyment for trail users with minimal impact to the surrounding natural resources. You can choose ski tours from 5 to 24 km long without returning to the Welcome Center.

Glide across gentle hayfields on the West Meadow and the East Meadows with scenic views of Sugarloaf, Haystack and Cold Hollow Mountains. On sunny days in March you can pause for a trailside lunch at picnic tables along the trail - at Bear Paw Pond, Moosewood Ponds and the High Meadow with its incredible panorama of the Jay Mountains: Little Jay, Big Jay, Jay Peak, North Jay, Gilpin Mountain, Domey's Dome & Buchanan Mountain.
Snowshoeing Trails offer an ungroomed, pristine winter experience. 10 miles of specially designated trails provide a variety of beautiful routes for people who wish to see nature up close on snowshoes. The Bear Paw Pond Area is just across the road and uphill from the Welcome Center. There are panoramic views from Coyote Meadow and the old sugar house. The summit of Sugar Hill (elevation 1,700') makes a good destination for people who want a pleaseant 2-mile roundtrip hike from the Welcome Center. The views of the Trout River valley with the villages of Montgomery and Montgomery Center can be enjoyed from the natural open bald summit.
Take a look at the Winter Trail Map to see the many different possibilities.

Please Note: Skiing on snowshoe trails or off-trail is not allowed. The entire trail network is closed to dogs or walking from mid December to mid May. All winter trail users must park and register at the Welcome Center and pay a trail fee before using the trail.
See the Winter Trail Map
The entire trail network ranges in elevation from 900' to 1,700'.Northern location, high elevation and mountain location combine to give Hazen's Notch reliable snow conditions. As Skiing Magazine wrote "If there is snow anywhere in Vermont, it's in Hazen's Notch."
Number of days
(Adult or Child)
Trail Pass

Equipment Rental
Skis Snow Shoes
1 Day
Adult
Child

$12.00
$ 5.00

$12.00
$ 8.00

$10.00
$ 8.00
2 Day
Adult
Child

$20.00
$ 8.00

$20.00
$14.00

$16.00
$12.00
Half Day (1:30PM)
Adult
Child

$ 8.00
$ 3.00

$ 8.00
$ 5.00

$ 6.00
$ 5.00
Winter Trails Pass
People who contribute to the Hazenís Notch Association Trails Fund at the levels below will receive a Winter Trails Pass. For more information, see Membership Support.
Student $20.00
Individual $30.00
Family $50.00
Hiking
Link to Hiking
The HNA trails are closed to hiking, walking and dogs from December 15 through May 15 each year. Only skiing and snowshoeing are allowed in winter. The entire trail network and supporting land areas are closed during the spring mud season from April 15 to May 15 each year.
Visit Hazenís Notch in Summer and Fall for Hiking. Approximately 20 miles of the Hazenís Notch trail network are open for walking and hiking from May 15 through the start of the rifle portion of the deer hunting season, approximately November 15.
Please see the Hiking and Visitor Information pages for complete information.
Stay on marked trails. Respect "Trail Closed" signs where present. Winter trail access is from the Welcome Center only. There is no trail access at the High Ponds Farm or the Bear Paw Pond Area in Winter.
Trails, parking areas and private roads and driveways may be closed at any time at landowners' discretion. Please observe and respect all signs, barriers, and gates. Thank you !
Attention: A 200-acre area on Burnt Mountain has been posted against trespassing due to ongoing forest management activities. Open trails: Beaver Ponds Trail to Moosewood Ponds and beyond to the Bear Paw Pond Area; High Meadow Trail to the back of the High Meadow; Dark Entry, Woodfern Loop, Coyote Connector and Sugar House trails. Closed trails: High Meadow Trail, Notch Trail, Sunset Ridge + Window Rock trails.
This page was last updated on March 8, 2019.